Investors enjoy the spectacular views
American Airlines flies through clear skies in its latest quarter despite some turbulence earlier this year, and investors can finally relax enough to get a nap in.


The stock jumped 4% on Thursday to hit its highest levels since November, despite reporting a mixed Q1. The airline beat on the top line with revenues that have more than doubled since this time last year to hit $8.9bn, though it missed on the bottom with EPS of $2.32.

Increased bookings have helped the brand fly above logistical storms and macroeconomic headwinds, which are causing a spike in fuel costs. High demand means that the airline was able to hike its prices, absorbing some of those extra costs – domestic airfares lifted 20% in March, and that'll prolly increase even more this year.

Nobody is expecting much more turbulence this year, according to not only American but other airlines that have reported earnings recently. Both leisure and business travel is set to be 90% recovered from the pandemic by the end of Q2, and American beat estimates by forecasting sales growth of 8%.

Angelina Korolchak / Unsplash
Subscribe to Snaps
See the market snapshots that matter and nothing else – sent to your inbox daily. Designed to be read in 20 seconds or less.
Airlines are in for a bumpy 2022
American Airlines struggles to land with all the extra baggage Omicron brought on board.


The stock dipped down 3% at market open to take prices down to their lowest level since January.

It managed to modestly beat on both ends. It reported a loss of $931m, or $1.42 per share, topping expectations but still much wider than pre-pandemic levels.

It boasted its highest revenue since the pandemic, coming in at $9.43bn and beating expectations of $9.38bn. The last three months of 2019 brought in $11.3bn in sales, so it's slowly building up some altitude.

But there are storm clouds ahead. Q1 revenue is forecast to be off 20% to 22% from 2019's first quarter, when revenue sales came in at $10.6bn.

The airline is hiring another 18k people this year on top of the 16k it hired in 2021 in an effort to prepare for any more covid-related cancellations – so many staff had to isolate in Q4 that airlines were forced to cancel thousands of flights.

It's "the most challenging planning environment in the history of commercial aviation", according to CEO Doug Parker. Other airlines seem to agree, so we'll see who will be left flying at the end of it all.

See all reported financials
Illustration by TradingView
Passing on the Captain's hat
American Airlines is losing its Captain after 20 years, making Doug Parker the longest-serving CEO ever of a major U.S. airline.


Parker is passing the baton to Robert Isom, the airline's current president and Parker's long-time aide.

The continuity has eased fears about a leadership upheaval while Covid is still lurking. Airline stocks have been among the most volatile since Omicron hit headlines.

He's the latest in a growing list of airline CEOs to depart recently. Both Southwest's Gary Kelly and Brad Tilden of Alaska Airlines left their posts this year.

Crash landing
There's a new Covid variant on the loose, and airline investors are bracing for impact.


Airline stocks took a nosedive on Friday. American Airlines and Delta (DAL) both spiralled down 9%, United (UAL) lost 10%, and Boeing (BA) ended the day down 6%.

It comes amid a fresh wave of global travel restrictions and flight cancellations thanks to the discovery of the Omicron strain.

American Airlines has yet to see prices recover to pre-pandemic levels, though prospects had been slowly picking up for the airline industry in the face of economic reopenings. Until now.

American Airlines gets slammed by cancellations
American Airlines experiences turbulence after severe flight cancellations, but its stock is still flying high on the uptick in travel.


Over 2,000 flights grounded: The airline fell prey to windy weather and staff shortages.

Stock still jumped 3% Monday: There has been a reassuringly robust return to travel since Covid restrictions lifted.

The company will have to dig deep to weather the holiday season. Especially given its Q3 earnings already relied on federal aid.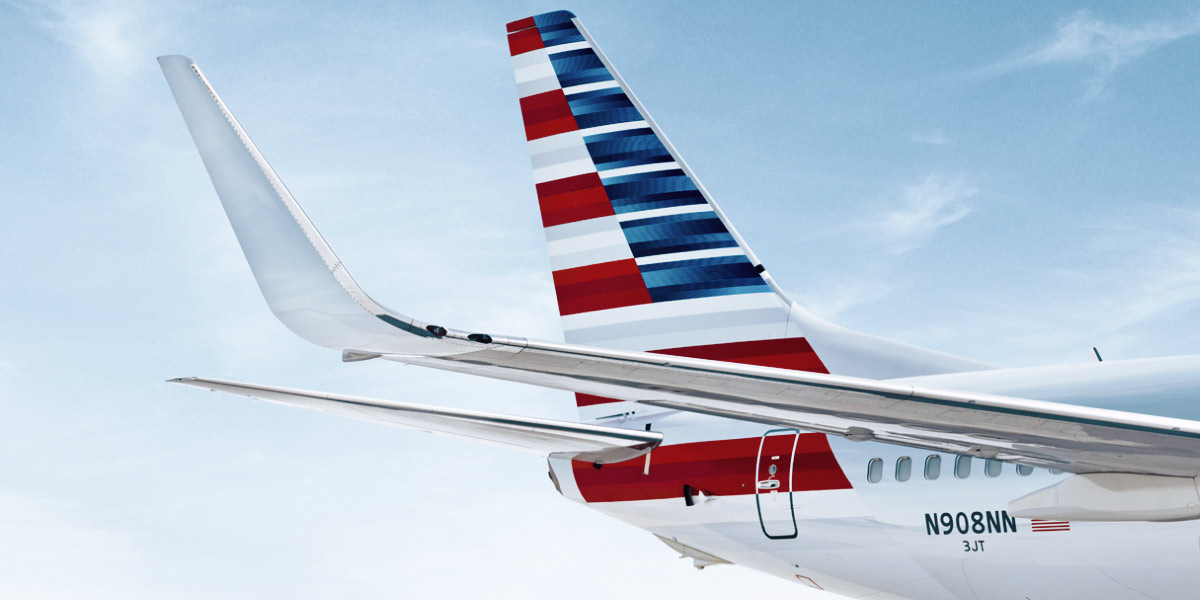 American gets back on track
American Airlines gained 7% in the first few hours of Wednesday trading on the back of news that the airline is expecting to report positive cash flow for the second quarter (for the first time since COVID grounded the industry), ending the day up a modest 3%.

Shares of American Airlines popped 7% in the first three hours of Wednesday morning trading after showing exciting signs of post-pandemic recovery. After making its way through a turbulent 2020 which saw billions in losses, the carrier is forecasting narrower losses and a better revenue for Q2 than it previously thought, proving that travel really might be on the rebound. AAL is forecasting a "slight" pretax profit for the second quarter for the first time since the pandemic began – at the height of the global travel shutdown, the airline was burning about $100 million per day in cash, but now it can happily report that it's been making around $1 million a day for the three months of Q2.

Sales are expected to be down about 38% since the same time in 2019, compared to a predicted drop of 40%, and the carrier expects a net loss of up to $1.2 billion and up to $1.76 in losses per share, compared to estimates of a per-share loss of $2.44. The 44 million passengers that American flew in the second quarter are probably to thank for those numbers: though still below 2019 levels, the numbers are up 82% from the first three months of the year.



We are clearly moving in the right direction. Our revenue and expense performance in the quarter came in better than expectations, and this was achieved while bringing the operation back up to full capacity and safely transporting a record number of travelers,


CEO Doug Parker and President Robert Isom said.

Stay tuned for official earnings on July 22.
Staffing problems send AAL spiralling
American Airlines is cruising downwards today after cancelling hundreds of flights thanks to massive demand creating a staffing crunch. There are worse problems to have. Like a global pandemic grounding all flights, perhaps?

The travel bug is spreading as Covid contracts, and hordes of people are flocking to the airports to get the heck out of town after months spent stranded at home. American Airlines has found itself overwhelmed (who knew people would be so desperate to go on holiday?) and had to cancel hundreds of flights over the weekend.

The airline is facing staff shortages and maintenance issues that are straining operations and causing disruptions, and ended up having to cancel about 190 flights – about 6% of its total flights in total, mostly due to a shortage of crew members. The company has also trimmed its overall schedule by 1% until mid-July as it faces disruptions from bad weather at the start of the month in North Carolina and Fort Worth.



The bad weather, combined with the labor shortages some of our vendors are contending with and the incredibly quick ramp up of customer demand, has led us to build in additional resilience and certainty to our operation by adjusting a fraction of our scheduled flying through mid-July,


said spokeswoman Sarah Jantz.

Still, an uptick in demand and return to pre-pandemic travel levels can only be a good thing considering how long airline companies have waited for this, so the development points to some potentially positive territory ahead.
Pre-earnings investor jitters
American Airlines is down 6.41% from the week after warning that its Q1 earnings (coming out this week) will show steep losses; despite plans for a summer domestic capacity hike and a cash flow positive month in March.

In a rare move, American Airlines released a sneak peek into its upcoming earnings report this week, disclosing an 8-K filing with the SEC that said Q1 net losses would be between $1.2 billion and $1.3 billion. It's been a tough time for travel – and even its recent sales uptick didn't stop the airline from losing over $27 million a day for the first three months of the year. The company expects revenue to be down 62% from its 2019 pre-pandemic levels, which is roughly in line with its earlier forecast of a 65% decline. The latest estimates will mean that the airline's net losses during COVID-19 could total over $10 billion, even after a government grant of the same amount to help cover payroll.

There was good news too though. American Airlines did manage to turn cash flow positive in March on an adjusted basis. Not counting its daily payment of $8 million towards regular old debt, the company only burned through around $4 million a day in March, compared to $30 million the quarter before - meaning it could end the quarter with about $17.3 billion in available liquidity.

This has been hugely helped by a hike in demand for domestic travel, and last week the airline announced its plans to restore domestic travel capacity to 90% of its 2019 levels, along with 80% capacity for its international network, as it anticipates that widespread vaccination will lead to a holiday rush. Travel demand for U.S. vacationers is certainly bouncing back, and airline CEOs across the board look to have a bit more of a spring on their step as they head into summer, Over 894 million vaccinations have been given in the U.S., so things might finally be looking up.